---
Casale has announced that its technology will be deployed to boost capacity at IFFCO's oldest production centre for phosphates and NPK, in Kandla, Gujarat, India.
Two of the existing lines were commissioned back in 1999, based on Grande Paroisse's Dual Pipe Reactor (DPR) technology, presently licensed by Casale after they acquired in 2013 the entire Nitrates and Phosphates technology portfolio originally developed by Grande Paroisse.
When IFFCO decided to debottleneck the two lines it opted for Casale's Solid Fertilizers technologies. Under the term the agreement that was awarded early this year, Casale will study the modifications required to boost the output by 15% to 25%, depending on the fertilizer grade to be produced, as well as furnish for each of the two lines one new Pipe Reactor to replace the existing one in the granulator.
The new Granulator Pipe Reactor (GPR) is, in fact, central to the revamping approach devised by Casale as it will:
Increase the phosphoric acid feed to the plant.
Increase the N/P molar ratio.
Minimise the impact on the scrubbing system as well as on the rest of the plant. In particular, the existing Pipe Reactor in the dryer (DPR) will be not replaced.
Increase the overall plant flexibility of operation.
The new GPR (sketch pictured) can be easily fitted in existing granulator drums without major modifications.
Read the article online at: https://www.worldfertilizer.com/project-news/04032021/casale-technology-to-boost-capacity-at-iffco-phosphates-and-npk-complex/
You might also like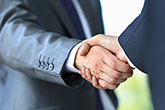 The company has announced that it has signed a definitive purchase agreement with Incitec Pivot Limited for IPL's ammonia production complex located in Waggaman, Louisiana.