---
To meet the needs of Brazil's phosphate processing operations, ArrMaz has engineered solutions to maximise Brazil phosphate grade and recovery for selective phosphate flotation, while depressing iron and other contaminates.
As Brazilian miners extract phosphate deposits from higher quality mines and max out these resources, they will have to turn to processing lower quality ores to meet phosphate demand. Unfortunately, these deposits are likely to contain more undesirable levels of impurities such as barite, dolomite, and/or silica than current mineral flotation processes can handle. Removing barite, dolomite, and silica impurities is challenging but necessary to achieve the phosphate grade needed to convert the phosphate ore into phosphate quality fertilizer, while still being able to selectively float phosphate and substantially depress iron.
While Brazil's current, technologically advanced reverse flotation processes already float barite away from phosphate, the demands of future, lower grade deposits will require more sophisticated collectors that can manage widely varying ore and processing conditions. Brazilian phosphate rock producers will be challenged to make grade - as too much silica and dolomite will make it difficult to convert the phosphate rock into phosphate quality fertilizer. ArrMaz works with Brazilian miners/mineral processors to customise a collector system and flowsheet design specifically for their ore and process, with the goal of simplifying the process by combining flotation steps so that multiple impurities can be floated away in one step, enabling maximisation of phosphate grade and recovery. The lower the rock impurities, the better the fertilizer processing and value.
Read the article online at: https://www.worldfertilizer.com/product-news/30102018/arrmaz-designs-custom-phosphate-flotation-solutions-for-brazilian-mining-operations/
You might also like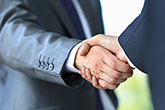 The company has initiated discussions with Unigel Participações S.A. to analyse joint business involving opportunity development in the areas of fertilizers, green hydrogen and low-carbon projects, in line with the revision of the strategic elements for Petrobras' Strategic Plan 2024 – 2028.