---
Stedman Machine Co.'s F-Series™, or Flared Series, Cage Mill features a unique flared discharge opening, which efficiently reduces the wettest and stickiest of materials, either abrasive or nonabrasive, without clogging. Increases of up to of 50% in production up-time and at lower maintenance costs have been reported.
The flared housing design eliminates corners that trap material, reducing clogging and down time. The flared design offers high capacities for the initial investment and at lower operating costs than other machine types. The cage mill is capable of producing a variety of product gradations by changing the mill speed. Typical applications include fertilizer and phosphate rock.
Feed sizes up to 3.5 in. are typical with capacities from 1 to 200 tph. Capacities vary depending on feed size, feed rate, operating conditions, desired product output, characteristics of feed material, and equipment configuration.
Cage mill design allows for multi-stage impaction, providing high reduction ratios. The multi-row cage design takes material into the centre of the inner-cage where it impacts on the cage impact bars and is hurled by centrifugal force into the path of the counter-rotating outer cage bars. This multi-stage reduction multiplies the impact force and results in higher first-pass yields.
Linings available for specific applications include: rubber - recommended for extremely sticky materials; Ni-Hard - for processing a severely abrasive material or semi-coarse product; stainless steel - for the reduction of corrosive and wet/sticky feed material and high-temp­erature conditions; and abrasion resistant steel - for minimum replacement cost and simplicity.
Tests are performed in the Stedman test plant using full-scale production-size mills to produce the gradations required.
Read the article online at: https://www.worldfertilizer.com/product-news/25072017/reducing-clogging-with-multi-row-cage-mills/
You might also like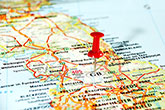 The company has delivered the first UK shipment of its low-carbon fertilizer to Simpsons Malt Limited as part of an exciting new project to significantly reduce the carbon footprint of malting barley and distilling wheat.