---
EIRICH has announced that its preparation technology, which enables mixing and granulating to be performed in a single unit, has recently been selected for use by a Turkish fertilizer manufacturer.
Demand for fertilizer in Turkey is increasing (both for agricultural and domestic use). The manufacturer – Doktor Tarsa Tarim Sanayi ve Tic. A.S (DRT) – therefore added a new production line to its manufacturing facilities, where it will be manufacturing a broad range of granulated mineral fertilizers. After trials were carried out at the test centre in Hardheim, Germany, DRT opted for an EIRICH preparation system.
At the heart of the system is the mixer, which features a rotating mixing pan and a mixing tool that can provide anything from low to extremely high mixing energy input to suit the requirements of a given application. This means that this machine is just as good at mixing as it is at granulating or coating, and this can all be done from the same single unit. By making simple changes to machine parameters in the granulating process, it is possible to manufacture grain sizes ranging from 100 µm to several millimeters. This system can be used to manufacture a variety of products at high quality, but it also offers viability for the future. These advantages can be achieved both on new production lines as well as in production upgrades or modernisations of existing systems. Here, the services and products offered by EIRICH range from simple mixer/granulating units right up to turnkey systems.
DRT also opted for grinding technology from EIRICH. During production, if the raw materials are not provided in the required fineness, a grinding and dispersing process is used upstream of the mixing and granulating process. EIRICH offers a number of milling systems to do this, including impact mills with an integrated air classifier that are marketed under the trade name TurboGrinder. In these mills – designed for the grinding and drying of soft raw materials (up to Mohs hardness 3) – the material to be ground is broken down with high impact forces and shear forces, which act on the material via the fast rotation of a rotor. Airflow is directed through the mill to discharge the material and allow for a continuous grinding process. The required finished material fineness can be adjusted with an integrated air classifier. If the process also requires drying during grinding, then hot air is directed into the grinding zone; feed material moisture values of up to 25% are possible. These mills grind up feed material of up to 30 mm to a grinding fineness of d97 ranging from 20 to 400 µm, and are characterised by a relatively simple machine construction, which in turn keeps maintenance simple. Nine machine sizes are available for throughput rates ranging from 50 kg/h to 30 tph.
The scope of supply includes several mixers and one impact mill with integrated classifier, plus the metering and control systems. The new production system will be taken into operation in Autumn 2017.
Read the article online at: https://www.worldfertilizer.com/product-news/22112017/turkish-fertilizer-manufacturer-selects-eirich-technology/
You might also like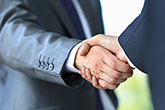 The company has announced a new joint venture developing green ammonia and fertilizer projects with the focus on Central America and the Caribbean.