---
Max-IR Labs – an optical sensor development company based in Dallas, Texas, US – has announced that it has been awarded a Phase I Small Business Technology Transfer (STTR) grant of US$225 000 from the National Science Foundation (NSF) to continue its development of a novel real-time optical sensor for nitrate detection in water and soil.
This grant will allow the company to develop its proprietary patent-pending online sensor instrumentation for the determination of nitrate and ammonia concentrations in water. This development addresses the requirement for a real-time, self-calibrating water quality monitoring technology that is not susceptible to bio-fouling and scaling, and that can be implemented to optimise biological nutrient removal (BNR) processes in both centralised and on-site waste water treatment systems.
Implementation of reliable online low-maintenance sensor packages is required for the optimisation of biological nitrate removal processes, as well as the reduction of the related wastewater treatment costs. The nitrification and de-nitrification processes that oxidise ammonia to nitrate require generation of dissolved oxygen. This consumes the majority of a municipal wastewater treatment plant's electrical energy usage. Max-IR Labs claims that its R&D efforts target the development of a cost-effective online monitoring solution to facilitate optimal performance of nitrate and ammonia removal systems, leading to aeration energy cost savings and a more constant effluent quality.
Driven by recent advances in infrared (IR) technology, the proposed sensor will provide both excellent performance and flexibility, whilst simultaneously being 70% less costly than traditional UV instruments and more robust and versatile than ion-selective electrodes (ISE).
Elevated levels of nitrate in environmental water bodies are usually caused by human activities, including overuse of chemical fertilizers in agriculture, as well as improper disposal of human and animal waste. Nitrate sensors are increasingly becoming important tools for the monitoring of water quality. Excess nitrate levels in both rivers and lakes can cause algal blooms and biodiversity loss with consequences that impact the economy and pose a threat to human health. Max-IR Labs' optical sensor technology will enable deployment of a dense real-time monitoring network in water treatment facilities, freshwater sources, and agricultural watersheds, and will gain a significant foothold in the US$6.8 billion global water quality monitoring equipment market.
In the statement, Max-IR Labs claims that it is currently in talks with a number of potential commercial and public-sector partners regarding the adoption of its water-quality sensor technology to help ensure safe drinking water and efficient wastewater treatment, as well as to help safeguard the environment.
Read the article online at: https://www.worldfertilizer.com/product-news/18052018/max-ir-labs-awarded-grant-for-development-of-nitrate-detection-sensor/
You might also like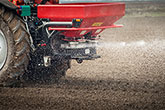 The company highlighted the role of the fertilizer industry by addressing global agricultural value chain challenges at the IFA conference in the Czech Republic.