---
The Climate Corp. and Koch Agronomic Services LLC have announced a research agreement that marks a significant step forward in applying data-driven digital tools to support more efficient nutrient management practices.
Koch Agronomic Services, which produces and markets a proven and expanding global portfolio of plant performance technologies including AGROTAIN® nitrogen stabiliser and SUPERU® fertilizer, has agreed to provide product research data to The Climate Corp. to use in the development of the data science models that power the company's industry-leading Climate FieldView™ digital agriculture platform. These advanced models feed Climate's nitrogen monitoring tools that help farmers build customised management plans for each field to optimise their inputs and maximise productivity.
With the addition of Koch Agronomic Services' product data, farmers will be able to select the Koch Agronomic Services' product they applied in each field in their Climate FieldView account, along with the type of nitrogen fertilizer applied, making Climate's nitrogen insights even more personalised.
"Farmers are always working to better manage their agricultural inputs, and this agreement reinforces both The Climate Corp. and Koch Agronomic Services' commitment to enhanced nitrogen efficiency," said Mike Stern, Chief Executive Officer for The Climate Corp. "Climate's data science models ingest millions of data points from multiple sources to help farmers track the level of available nitrogen for a field, and to generate customised management zones within the field, throughout the growing season. Through this agreement, we can build even more robust models to deliver greater value to farmers as they work to manage this important crop nutrient more efficiently."
In August 2016, The Climate Corp. announced that it would extend its platform to enable other ag innovators to build upon and complement Climate's digital tools with additional data layers. Through this new agreement with Koch Agronomic Services, farmers can experience even greater value from the Climate FieldView platform.
"Our goal is to help farmers achieve their production, profitability and environmental goals, and we believe this data sharing agreement provides an additional tool to increase efficiency in agricultural practices," said Chase Koch, president of Koch Agronomic Services. "We know each field has different nitrogen needs, and we believe adding data on our scientifically-proven enhanced efficiency fertilizer products into the Climate FieldView platform will deliver deeper insights to farmers to help them manage crop fertility."
Officially launched in 2015, the Climate FieldView™ platform is on more than 100 million acres across the US, Canada and Brazil. Backed by the most powerful data science engine and most extensive field research network in the agriculture industry, the Climate FieldView platform delivers insights that help farmers make data-driven decisions.
Koch Agronomic Services product selection within a farmer's Climate FieldView account is expected for the 2018 growing season.
Read the article online at: https://www.worldfertilizer.com/product-news/04042017/climate-corp-and-koch-in-research-agreement/
You might also like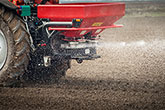 The company highlighted the role of the fertilizer industry by addressing global agricultural value chain challenges at the IFA conference in the Czech Republic.