Product news - 04 January 2017
African Potash Ltd has released its final results for the year ended 30 June 2016.
The new laboratory will analyse the quality of the incoming raw materials and finished product of the ammonia production unit.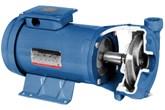 The Vertiflo Pump Co. has launched a rugged, dependable Model 1312 Industrial, close-coupled, horizontal, end suction pump.