---
Danakali Limited provide a quarterly update on the activities and financial position of its Colluli Potash Project, located in Eritrea, East Africa.
The project is 100% owned by the Colluli Mining Share Company, a 50:50 joint venture between Danakali and the Eritrean National Mining Corporation.
Colluli is execution ready. Danakali and CMSC are focused on logistics and other technical collaboration aspects with offtake partner EuroChem, operational contracts, operations readiness, funding, and corporate social responsibility initiatives.
There has been pleasing engagement from potential debt financiers during the period. Multiple potential debt financiers have provided expressions of interest, due diligence is well advanced, and meetings have been carried out with Eritrean Government officials as part of the due diligence requirements.
Following the binding take-or-pay offtake agreement with EuroChem for up to 100% (minimum 87%) of Module I Sulphate of Potash (SOP) production from Colluli, Danakali's Executive Chairman and Chief Commercial Officer visited EuroChem's Antwerp, Belgium Nitrogen Phosphorus Potassium (NPK) fertilizer production facility in August 2018. Their visit was escorted by a senior EuroChem delegation, who provided valuable insight into NPK fertilizer production processes. Chief Commercial Officer (CCO), Niels Wage, described the visit as "very positive and constructive, with great engagement from EuroChem team members". Danakali continues to make progress with the implementation of the EuroChem agreement with supply chain and product development underway.
CMSC has confirmed DRA as the preferred engineering, procurement, construction, and management (EPCM) contractor for Colluli, a critical project execution milestone. DRA is a high quality multi-disciplinary global project, management, and engineering group with strong African experience and EPCM delivery capability. The EPCM contract is a requirement of potential debt providers and reinforces that Colluli is execution ready. DRA will be responsible for all aspects of design, project management, procurement, construction management, and supervision as well as commissioning of the complete process plant and associated infrastructure, including provision of all temporary construction facilities. DRA will also be responsible for awarding major contracts such as early works, earthworks, structural, mechanical, piping, electrical and instrumentation works, laboratory, and permanent camp (including life support, freight, and logistics).
Following discussions among the CMSC joint venture partners (ENAMCO and Danakali) and with the Eritrean Ministry of Energy & Mines (the MoEM), CMSC has decided not to submit a notice of commencement of development by the end of October 2018 and will instead seek an extension. Assurances have been provided by the MoEM to CMSC that an extension will be provided. Danakali and ENAMCO continue to work closely together to further the project.
Read the article online at: https://www.worldfertilizer.com/potash/30102018/danakali-limited-announces-quarterly-update-on-activities-and-its-colluli-potash-project/
You might also like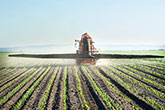 The new facility will deliver significant benefits to Western Australian grain growers.