---
K+S Aktiengesellschaft has announced that it will terminate potash production at the Sigmundshall site in Wunstorf-Bokeloh, Hanover Region, Germany, at the end of next year.
The company claims that the reserves that can be commercially mined are coming to an end, stating that mining conditions for the extracting the raw materials at a depth of more than 1400 m are reaching human and technological limits. K+S claims that it is in talks with workforce representatives and the trade union regarding new prospects and solutions for the site's approximately 730 employees.
The Chairman of company's Board of Executive Directors, Burkhard Lohr, said: "The decision to close the plant is not an easy one for us when we consider the workforce, which has done everything to make its site successful.
"But all those involved have known for a long time that the crude salt reserves of the Bokeloh salt deposit are dwindling. Mining conditions are becoming more and more demanding."
"Despite the great commitment of the employees, the Sigmundshall plant can no longer be profitably operated."
"We are aware of our responsibility and will be seeking a good path for all those involved together with the works council and trade union.
"We are proud of this workforce and would very much like to keep its skills and commitment in the company. We therefore want to offer new jobs at other K+S Group sites to as many employees as possible."
In the statement, K+S claims that discussions have been held since November 2016 with workforce representatives and the trade union in a joint working group as to possible re-use options against the backdrop of the site's commercial development. In connection with this, one plan is to operate the aluminium-salt slag recycling facility (REKAL facility) independently of potash production in the future, and also to continue to cover and revegetate the tailings pile with the recycled materials. The company claims that other measures are currently being examined, and that its partners in the local environment should also be included in these deliberations in the future, so as to be able to develop a sustainable concept.
The technological steps taken to shut down production and keep the mine going will be developed as part of a comprehensive project and presented to responsible authorities for their approval.
The costs anticipated this year for the closure fall within the range of the current results estimate.
Read the article online at: https://www.worldfertilizer.com/potash/29112017/ks-announces-termination-of-potash-plant-operations/
You might also like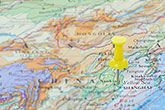 Casale's granulation process has been chosen for Xinjiang Xinji Energy's recycling project.