---
K+S has announced that Volker Bouffier, the Minister President of Hesse, Germany, has visited the Werra Verbund plant to gain a greater understanding of the current economic situation of the potash district.
During the visit, Bouffier also praised the company's efforts to make production more environmentally friendly using the latest technology. K+S claims that a focal point was the progress on developing a new kainite cystallisation and flotation facility (KCF) to decrease wastewater.
Bouffier said: "The state government of Hesse remains committed to creating a stable environment to safeguard jobs in the Werra potash district. However, we expect K+S to continue to stand by its obligation to deploy innovative processes and technologies to conserve the environment in the future as well."
Timo Lübeck, the local Bundestag candidate, noted that he was pleased that the minister president had accepted his invitation to visit the region, adding that it was "important to have Hesse´s Minister President actually on the ground and that potash miners could always rely on his word. A close dialogue with the Board of Executive Directors, plant management and employees is indispensable."
K+S claims that Bouffier was informed in detail on the status of work on the new KCF facility, which will reduce saline wastewater by a further 20% in future. In addition to this, he also asked about the extent to which the facilities erected as part of the initial package of water protection measures at the Werra plant sites had fulfilled expectations in practice.
The Chairman of the K+S Board of Executive Directors, Burkhard Lohr, emphasised that the Werra Verbund plant occupies a firm place in the global K+S Group production network. He said: "The extraction of domestic raw materials and the protection of the environment are compatible with each other. Our new facility will result in further innovations becoming reality. To make this perfectly clear, we are engaged in a close dialogue with political circles, our site local communities as well as environmental associations and civic initiative."
Read the article online at: https://www.worldfertilizer.com/potash/26092017/minister-president-of-hesse-visits-werra-verbund-plant/
You might also like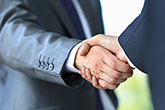 The company has initiated discussions with Unigel Participações S.A. to analyse joint business involving opportunity development in the areas of fertilizers, green hydrogen and low-carbon projects, in line with the revision of the strategic elements for Petrobras' Strategic Plan 2024 – 2028.