---
Encanto Potash Corp. will have the capacity to produce and export 3.4 million tpy, according to a recently completed Preliminary Economic Assessment (PEA) by Amec Foster Wheeler.
The estimated 20% increase in production potential can be maintained for more than 48 years, according to the assessment. The study also concludes the project has a net present value of CAN$1.13 billion, with an internal rate of return of 18.9% after taxes using a 10% discount rate. The PEA highlights are shown in Table 1. Readers are cautioned that the PEA is preliminary in nature, and is based on an economic evaluation of Measured and Indicated Mineral Resources. Mineral Resources that are not Mineral Reserves do not have demonstrated economic viability, and there is no certainty that the preliminary economic assessment will be realised.
Encanto and the Muskowekwan First Nation (MFN) are developing Canada's first potash mine on a First Nation reserve in south-east Saskatchewan. Encanto has signed a contract with NACOF to supply 5 million tpy of potash for 20 years.
"We are confident that we will continue to succeed in building Encanto into a global industrial company, and deliver to the First Nations in Canada and to India a food security contract through long-term supply," said Encanto President and CEO, Stavros Daskos.
"With almost two years of efforts and the strategic alignment in India with Mr. Vinay Maloo, founder and chairman of the Enso Group, we signed a 20-year agreement to supply 100 million t of potash in India with NACOF. With the leadership of Muskowekwan First Nation Chief Reginald Bellerose, we then quickly secured the Mineral Title with the MFN and the support of the Ministry of Indigenous Affairs Government of Canada."
MFN Chief Reginald Bellerose added: "I believe we are making First Nations history. This recent study makes it clear the Encanto potash mine, thanks to the rich potash resources beneath the MFN, has the capacity to meet this long-term supply contract with India's NACOF. This represents one of the largest developments on First Nations land and will allow the Muskowekwan people to be active participants in the economy. I also believe this partnership, endorsed by the Muskowekwan, is a model for the future development of Canadian First Nation natural resources."
Encanto next steps will be to secure the additional capacity, above the 3.4 million t estimated mine capacity, to supply the 5 million t of potash established under the NACOF contract. To do so, Encanto has formed a trading company that is now in negotiations to supply potash to India, which if successful, would create a positive revenue stream while the company continues to seek further investment to build the CAN$3.7-billion mine and plant.
Said Encanto CEO Daskos: "The next steps concurrent to structuring project financing, are now focused on negotiating a long-term supply agreement or merger with an existing producer where a ramp up schedule for 5 million tonnes per year can be reached with NACOF. This will trigger potash exports before opening on-site mining operations at MFN, allowing immediate revenues for Encanto. These discussions are currently taking place with the continued intervention of Mr. Maloo, who is also working to secure these quantities with cash as guarantees for supply as we work out pricing."
Read the article online at: https://www.worldfertilizer.com/potash/14062017/encanto-could-export-34-million-tpy/
You might also like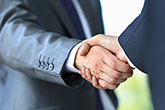 The company has announced a new joint venture developing green ammonia and fertilizer projects with the focus on Central America and the Caribbean.