---
IC Potash Corp. (ICP) and Cartesian Capital Group, LLC (Cartesian) have entered into a binding letter of intent (LOI) regarding the indirect ownership of ICP in Intercontinental Potash Corp. (USA) (ICPUSA), the company that fully owns the Ochoa sulfate of potash project.
Subject to ICP shareholder votes, under the LOI, ICPUSA will redeem its common shares that are indirectly owned ICP. This transaction represents the sale by ICP to Cartesian affiliates of ICP's indirect ownership in the Ochoa project.
ICP's board of directors estimate the value of the proceeds of disposition to be approximately US$15 million. The proposed consideration is composed as follows:
US$1.4 million in cash funded by Cartesian upon release of executed settlement and transaction documents.
A promissory note of US$1.4 million due to ICP, directly or indirectly, by ICPUSA, to be guaranteed by Cartesian, due on 8 January 2018.
A water royalty equal to 75% of the revenue of ICPUSA derived from all sales of water and/or water rights to an aggregate of US$12.2 million. The water royalty will be backed up by a mining royalty of 1% in the event that the full US$12.2 million is not received by 31 December 2022. ICPUSA will use its efforts to source and enter into agreements to sell the water resources as soon as reasonably practicable.
As part of the agreement, which is subject to final documentation and shareholder approval, existing litigation between the parties and their affiliates would be settled and associated claims released.
Mehdi Azodi, President and CEO of ICP Canada, stated: "The potash markets have been in a substantial downturn since 2012. The Cartesian affiliates have taken a long-term view on the value of polyhalite and sulfate of potash, and is committed to continuing to fund the Ochoa project from private capital sources.
He added: "The board of directors of ICP appreciates the ongoing efforts of Cartesian, which commenced in late 2014, in the financing and moving forward of the Lea County polyhalite asset. We believe that upon the completion of the build, which yet requires substantial capital, a profitable and unique fertilizer asset will have been developed for the benefit of the agricultural industry of the US and for the benefit of the State of New Mexico."
Peter Yu, Managing Partner of Cartesian, stated: "This transaction will enable us to accelerate the development of the Ochoa project and build a world-class producer of specialty fertilizer. We are grateful to our partners at ICP Canada […] for all of their efforts in developing this important resource."
Read the article online at: https://www.worldfertilizer.com/potash/09082017/letter-of-intent-to-accelerate-the-development-of-the-ochoa-project/
You might also like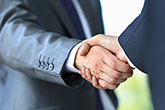 The company has announced a new joint venture developing green ammonia and fertilizer projects with the focus on Central America and the Caribbean.