---
Encanto Potash Corp. has confirmed the receipt of three separate requests for potash quotes from India.
The orders would fall under the agreement with Metals and Minerals Trading Co. (MMTC). The agreement contained a unique clause allowing for potential sales from existing potash producers as the company works concurrently on developing their flagship Muskowekwan potash project.
The first request is for the supply of 30 000 t white muriate of potash (MOP).
The second request is also for the supply of 30 000 t (pink or red) muriate of potash.
The third request is for the supply of 60 000 t (pink) muriate of potash.
Encanto management is in discussions with an existing producer, which had expressed prior interest in potential potash orders and supporting Encanto in India. The discussions are not limited to these initial spot orders but to a price and terms of a longer term supply agreement.
CEO and President Stavros, Daskos commented on the receipt of separate tender requests: "The significance of receiving these requests is that if Encanto had an operating mine, it would now be supplying India's market share as a result of its two agreements. There would not be the oversupply issues that the segment is embroiled in, but the significant exports in the billions of dollars on a cooperative basis."
"We are currently working with our engineering team on an updated feasibility study to reflect current realities and it will now demonstrate the economics of a mine that may have an increased capacity over the previously envisioned 2.8 million t annually. The updated 43-101 compliant feasibility numbers will also help us determine the terms and scope of a longer term supply agreement with an existing producer as well," continued Daskos.
Read the article online at: https://www.worldfertilizer.com/potash/07032017/encanto-potash-receives-potash-quote-request-from-mmtc/
You might also like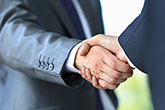 The company has announced a new joint venture developing green ammonia and fertilizer projects with the focus on Central America and the Caribbean.