---
The FS was completed by an integrated team, consisting of ENGCOMP Engineering and Computing Professionals Inc. of Saskatoon, SK and its engineering sub-consultants, South East Construction L.P. of Esterhazy, SK, Terra Modelling Services Inc. of Dalmeny, SK, Innovare Technologies Ltd. of Carlyle, SK, Golder Associates Ltd. of Saskatoon, SK, and Whiting Equipment Canada Inc. of Welland, ON. These companies are experts in their respective fields, and bring best-in-class Saskatchewan potash knowledge and experience to the Project. The integrated team joined together the engineers, designers, fabricators, and construction contractors to collaborate on the design, constructability, and optimisation of key projects elements. This integrated approach supports the development of a solid capital cost estimate and project schedule, which bolsters confidence in the overall Study.
Gensource's President & CEO, Mike Ferguson, said, "We are delighted to have completed the feasibility study for Vanguard, and are even more pleased that, as we dig deeper into the detail, the chosen mining and processing methods continue to affirm that Gensource has selected the right approach to potash production. Not only do we have a world class resource, but the project also provides a strong return on investment, in part because it is small and easily scalable, and all the while setting a new bar for environmental responsibility in the development of new potash production. The results of the Study speak for themselves: even in this time of low potash prices, and even with Gensource's conservative assumptions on potash price into the future and on-going sustaining capital costs for the operation, the project is technically and economically robust. We are excited to take the Vanguard Project to the next step – confirming the construction financing and then into construction and ultimately, operation. We are more convinced more than ever that this is the way to produce potash in the 21st century." The Study was initiated in October 2016 with a planned completion date of Q2 2017, a goal which has now been met. Effort invested in engineering, design, management, procurement, estimating, planning, and report preparation exceeded 20 000 hours over the Study period. A National Instrument (NI) 43-101 technical report will be filed within 45 days of this news release, and will also be available on the Company's website.
The FS was undertaken, financed and completed directly by Gensource Potash Corporation and it represents the next step in the Company's drive to bring new technologies and new business approaches to the potash industry. It is based on engineering and cost estimating methods and levels of effort sufficient to support an AACE International Class 3 capital cost estimate – key to adding certainty to both the engineering design as well as construction costs and schedule for the project.
As background, the company's new 'business + technology' approach to potash uses a small-scale production model that has the following features:
It allows for vertical integration of the mine with an identified market partner.
It facilitates lower capital expenditures (CAPEX), and is therefore more readily financed, together with site-based operating costs (OPEX) that are at the low end of the lowest quartile of all potash operations globally.
The selective solution mining techniques continue to exhibit a significantly reduced environmental footprint, with no salt tailings on surface, no brine ponds or other brine control structures, and no requirement for surface water consumption. Consequently, the company hopes that permitting the Vanguard One project will be easier than a typical potash project.
Read the article online at: https://www.worldfertilizer.com/potash/02062017/gensource-announces-results-of-the-vanguard-one-feasibility-study/
You might also like
Join our sister publication, World Cement, in Lisbon, 10 – 13 March 2024, for their first in-person conference and exhibition: EnviroTech.
This exclusive knowledge and networking event will bring together cement producers, industry leaders, technical experts, analysts, and other stakeholders to discuss the latest technologies, processes, and policies being deployed at the forefront of the cement industry's efforts to reduce its environmental footprint.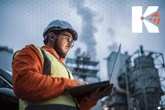 Sulfuric acid poses a persistent threat to the structural integrity of critical equipment used in the fertilizer industry. For corrosion protection, fertilizer producers can rely on a single source using fluoropolymers, dual laminates and acid-resistant mortars and bricks. Case studies can supply credible examples of the solution's long-lasting success in challenging applications.