---
The Eastern and Southern African Trade and Development Bank (TDB) and OCP Group are using blockchain technology to execute US$400 million-worth of fertilizer trade finance transactions, US$270 million of which have already been completed, and the remainder to be executed in the upcoming months.
These transactions make OCP Group the first African company to execute an intra-African trade transaction using blockchain. Through dltledgers' blockchain platform, OCP Group delivered phosphate fertilizers from Morocco to Ethiopia. The intra-African transaction initiative, as part of OCP's digitalisation strategy, aims to reduce the trade finance gap in Africa and boost trade between African countries, particularly in the fertilizer sector, through digital inclusion.
dltledger's blockchain technology makes it possible for all parties to carry out these import-export trades digitally and in under two hours. Traditional transactions typically take over three weeks to complete due to the need to move physical documents from suppliers, through the banking system, to the buyer. This lengthy process was disrupted further by the COVID-19 pandemic, taking up to six-weeks to complete, as border and airport closures continue to create additional delays.
Through the blockchain platform, stakeholders are able to upload, view, edit, and validate the documentation in one private blockchain, simultaneously and in real-time. Moreover, blockchain transactions have a lower carbon footprint, and are more secure due to encryption and verification technologies. They also allow for greater transparency and traceability, and reduce risks by eliminating potential errors and ambiguities in the exchange and amendment of documents.
These transactions come as total global trade for 2020 contracted by 5 to 10% as compared to the previous year, alongside reduced demand for trade finance.
TDB has facilitated over half a billion US$- worth of trade finance in Ethiopia in 2020 alone and supported close to US$1 billion of fertilizer imports from OCP Group to Ethiopia in the past three years.
TDB became the first African DFI to complete a live end-to-end trade finance transaction using blockchain in October 2019, when it financed the import of 50 000 t of white sugar from India into the region it serves.
Agriculture plays a critical role in Ethiopia's economy, representing 31% of the country's GDP and 66% of its total employment. Fertilizers are fundamental to the sector, with about half being imported from the OCP Group in Morocco.
Read the article online at: https://www.worldfertilizer.com/phosphates/31032021/trade-and-development-bank-and-ocp-group-using-blockchain-to-execute-fertilizer-trade-finance-transactions/
You might also like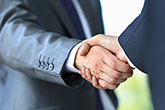 The company has initiated discussions with Unigel Participações S.A. to analyse joint business involving opportunity development in the areas of fertilizers, green hydrogen and low-carbon projects, in line with the revision of the strategic elements for Petrobras' Strategic Plan 2024 – 2028.