PhosAgro-Region exceeded 3 million t in mineral fertilizer sales in Russia in 2019 
Published by Laura Dean, Deputy Editor
World Fertilizer,
---
The largest mineral fertilizer distribution network in Russia, PhosAgro-Region (a PhosAgro subsidiary), increased its supply of mineral fertilizers to Russian agricultural producers by 7.6% y/y in 2019 to 3.16 million t.
Most notably, sales of PhosAgro products to farmers increased by 10.5% y/y to 2.69 million t. Sales of complex and phosphate-based fertilizers, which increased by 13.9% y/y, accounted for more than 80% of this volume. PhosAgro-Region's regional companies also supplied more than 470 000 t of product made by other producers.
According to the Russian Fertilizer Producers Association, PhosAgro remains the largest supplier in terms of the overall volume of all types of mineral fertilizers to Russian farmers. The domestic Russian market remains PhosAgro's priority market, where the Company sells around 30% of its production output; PhosAgro fertilizers are produced to meet demand from Russian farmers and to comply with standards for environmentally friendly agricultural products.
In 4Q19, PhosAgro's sales to the Russian market increased by 15% y/y. This dynamic increase in demand for phosphate-based fertilizers was largely due to the fact that farmers began stocking up on phosphate-based fertilizers in advance of field work not only for the spring but also for autumn 2020.
The largest consumers of PhosAgro-Region products and services are located in areas of the Central Black Earth Region and the south of Russia, which account for about 70% of sales. In 2019, the highest growth rates in terms of purchases of mineral fertilizers were seen in parts of the Black Earth Region, where the network's regional companies increased total sales of all types of mineral fertilizers by 9.2% to 1.24 million t.
PhosAgro-Region invested more than RUB 650 million in 2019 into infrastructure development in priority regions. New logistics capacities were launched in the Tambov and Voronezh regions that made it possible to reduce end consumers' costs for the delivery and storage of mineral fertilizers and to improve capacity to supply farmers during periods of field work and peak demand. In November of last year, PhosAgro-Region began construction of its fifth distribution centre in the Krasnodar region, the launch of which is expected shortly before the start of spring field work.
As of the end of 2019, the simultaneous storage capacity of PhosAgro-Region's warehouses exceeded 650 000 t. Almost all of the network's distribution centres have dependable capacity for the storage and shipment of liquid mineral fertilizers: over the past five years, their total capacity has increased tenfold to almost 45 000 t. About half of these centres are located in southern regions of Russia, which are rapidly developing the practice of using liquid complex fertilizers.
PhosAgro CEO Andrey Guryev said: "PhosAgro supplies more fertilizers to the Russian market than to any other country in the world. In 2019, for the first time in the recent history of Russian agribusiness, PhosAgro-Region exceeded 3 million t in sales of mineral fertilizers to farmers. More than a third of these sales were made up of a wide range of NPK fertilizers, which has proven effective in ensuring the consistently high quality and unique environmental performance of Russian agricultural products.
"In turn, a large and profitable harvest enabled farmers to invest more heavily in the mineral nutrition systems used for their crops to achieve better results, which supports the growth of the entire mineral fertilizer industry.
"As of the end of 2019, the volume of supplies of mineral fertilizers from the largest producers to the Russian market had grown by 14.5% to 9.5 million t, which was the highest figure seen in the past 20 years. This year, the demand for fertilizers in the Russian market may increase by another 5 – 10%.
"I am confident that the creation of the national Green Standard for environmentally friendly products will contribute to the further development of the Russian agricultural sector, which will allow us to highlight the competitive advantages of Russian agricultural products in foreign markets and to use advanced agricultural technologies to create an affordable basket of wholesome food products for domestic consumers."
Read the article online at: https://www.worldfertilizer.com/phosphates/30012020/phosagro-regionexceeded-3milliont-inmineralfertilizersales-in-russia-in-2019/
You might also like
Join our sister publication, World Cement, in Lisbon, 10 – 13 March 2024, for their first in-person conference and exhibition: EnviroTech.
This exclusive knowledge and networking event will bring together cement producers, industry leaders, technical experts, analysts, and other stakeholders to discuss the latest technologies, processes, and policies being deployed at the forefront of the cement industry's efforts to reduce its environmental footprint.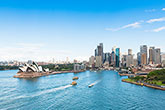 Te´cnicas Reunidas and Allied Green Ammonia have agreed to commence the first phases of a Green Hydrogen and Green Ammonia production facilities at Northern Territory, Australia.