---
Nalco Water, an Ecolab (ECL) company, has introduced new phosphorous-free and low-phosphorus programmes for mild-steel corrosion control and scaling inhibition that perform in the industry's widest operating window.
The new specialty anodic chemistry, 3DT337, along with select cathodic chemistries, allows cooling water systems to reach higher cycles of concentration and higher pHs without performance loss. With the ability to withstand high cycles and long holding-time indices, it offers constant corrosion protection and reduces scale in critical systems across a range of applications, prolonging asset life and reliability. In a real-world industrial application, a facility leveraged the program to obtain a 70% reduction in mild steel corrosion.
The new programmes offer superior performance in varying water conditions with minimal dosage adjustments. By eliminating or greatly reducing added phosphate and allowing for operation at a higher pH, these unique programs remove aquatic nutrients for bacteria.
"Nalco Water is a global market leader for water treatment solutions and partners with many of the world's top industrial companies," said Jeff Bulischeck, executive vice president and general manager, Heavy Industries and Mining, Nalco Water. "We are excited to add these corrosion inhibition solutions to our line-up of best-in-class environmental chemistries to help North American producers minimise risk and maximise outcomes."
Nalco Water's article, "Too Cool for Corrosion," can be read in the October 2019 edition of World Fertilizer and on the company website, which can be accessed here.
Read the article online at: https://www.worldfertilizer.com/phosphates/27112019/nalco-water-launches-non-phosphorus-and-low-phosphorus-chemistry-programs-for-mild-steel-corrosion-control-in-cooling-water-systems/
You might also like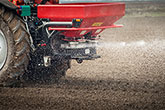 The company highlighted the role of the fertilizer industry by addressing global agricultural value chain challenges at the IFA conference in the Czech Republic.