Ma'aden Wa'ad Al Shamal Phosphate Co. contracts DuPont Clean Technologies for turnaround support
Published by Laura Dean, Deputy Editor
World Fertilizer,
---
The Ma'aden Wa'ad Al Shamal Phosphate Company (MWSPC) has signed a service agreement for a period of three years with DuPont Clean Technologies (DuPont) for its sulfuric acid plant in Sirhan, in the Turaif region of the Kingdom of Saudi Arabia. The service program will include activity testing of catalyst samples, evaluation of catalyst performance, plant optimisation, troubleshooting and management of catalyst replacement. Furthermore, DuPont will track performance and assess the overall health of the plant using pre-agreed metrics and will employ its proprietary portable MECS® PeGASyS™ gas chromatography system to assist MWSPC with troubleshooting and plant performance optimisation.
The MWSPC operation is a joint venture between Ma'aden, SABIC and US company Mosaic. It manages a phosphate complex with mining, beneficiation, phosphoric acid and sulfuric acid operations with a total capacity of 16 million tons per year and a fertilizer facility with a capacity of 4.3 million tpy.
MWSPC senior management commented on the agreement saying, "Ma'aden's vision is to be among the leading players in the global phosphate trade. MWSPC is one of three mega projects that contribute to this goal and as such we need to accomplish planned turnarounds swiftly, as planned and with optimal performance gains. That is why we decided to call on DuPont as an external expert in this field to assist us."
Thierry Marin, Managing Director, DuPont Clean Technologies EMEA said, "Through years of acid plant ownership and operating experience, DuPont has achieved operational and reliability excellence that is considered best in class by the industry. That performance is based on best practices we have developed and applied to our own operations and to those of customers. We are delighted to put this know-how at the service of MWSPC to help the company to calibrate and improve plant performance at the same time as achieving planned turnarounds on time and on budget."
DuPont will be employing its proprietary portable PeGASyS™ gas chromatography system to analyse the SO2 and O2 converter gas streams at the MWSPC site to provide a solid basis for the planning of turnarounds. The system is not only suitable for gas analysis, but also can be used to detect possible leaks in gas-to-gas heat exchangers, identify SO2 gas bypassing and measure overall plant conversion in order to optimise plant operation, reduce SO2 emissions, increase production and improve converter performance.
Read the article online at: https://www.worldfertilizer.com/phosphates/24122019/maaden-waad-al-shamal-phosphate-co-contracts-dupont-clean-technologies-for-turnaround-support/
You might also like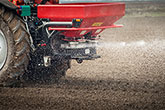 The company highlighted the role of the fertilizer industry by addressing global agricultural value chain challenges at the IFA conference in the Czech Republic.