---
OCP S.A. has reported results for the 4Q16, with the following key figures:
Full year
Revenues reached US$4.3 billion, compared to 2015 level of US$4.9 billion.
EBITDA amounted to US$1.3 billion, down from US$1.8 billion for 2015.
EBITDA margin was 30% vs. 37% in 2015.
Adjusted operating cash flow of US$1.2 billion comparable to that of 2015 US$ 1.3 billion.
Capital expenditures were US$ 1.4 billion.
4Q16
Revenues amounted to US$1.05 billion compared to US$ 1.07 billion for 4Q15.
EBITDA was US$363 million vs. US$377 million for 4Q15.
EBITDA margin stable at 34% vs. 35% for 4Q15.
"In 2016, OCP achieved significant operational milestones and remained strongly profitable, confirming the effective implementation of our strategy. The expansion of our range of customised, high-margin products and our leading position across key growth markets have contributed to OCP's resilience despite challenging market conditions. Our rock export capacity was significantly expanded, and our efforts to curtail costs generated very positive results. Importantly, backed by its strategic achievements, OCP captured phosphate demand growth in 2016 through increased capacity across the entire value chain," said Mr. Mostafa Terrab, Chairman and Chief Executive Officer of OCP.
"We believe that the phosphate market is hitting the bottom of the cycle. At the end of 2016, we saw prices picking up due to higher demand from key import markets combined with lower industry-wide production rates. Looking ahead, we expect the market to remain supply-driven. However, we foresee continued strong demand conditions thanks to stable crop fundamentals and reduced prices for inputs."
"The implementation of our capital investment program, with the completion of the first phase of investments continues to further consolidate our leadership position. Today, we are leveraging our existing Jorf Lasfar facilities to enhance our fertilizer capacity at a much lower cost than expected. As the industry leader with the largest reserve base, we are ideally positioned to capture a large part of incremental phosphate demand, notably from our unique ability to produce customised fertilizers, and benefit from improved market conditions in the future," concluded Terrab.
Read the article online at: https://www.worldfertilizer.com/phosphates/24032017/ocp-reports-4q16-earnings/
You might also like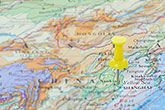 Casale's granulation process has been chosen for Xinjiang Xinji Energy's recycling project.