Keras Resources' extended mining campaign completed at Diamond Creek Phosphate Mine
Published by Emily Thomas, Deputy Editor
World Fertilizer,
---
Keras Resources plc has announced that it has successfully completed its extended mining campaign at its high-grade Diamond Creek organic phosphate mine in Utah, USA. A total of 3000 tons of phosphate ore (500 tons more than targeted) was mined, crushed and will now be loaded and hauled to the Spanish Fork processing facility before the end of the mining season, which formally ends on 31 October 2022.
In addition to the material already on stockpile, this crushed ore will be milled during the winter months to produce 10 mesh and 50 mesh products for the US fertiliser market. The 10 mesh product will be sold to an existing offtake client and the 50 mesh will either be packaged and sold directly to customers or fed into the mill in Spanish Fork to produce 100 mesh and 350 mesh products.
Graham Stacey, CEO of Keras, commented, "We are very pleased to have completed our extended mining campaign which exceeded our plan by some 500 tons. We are now fully stocked for the coming months with ore available to meet committed demand as well as plenty of material to process bespoke orders. Sales continue to be our main focus and we will be supplying our full range of products throughout the winter as growers re-stock for the spring planting season early next year."
Read the article online at: https://www.worldfertilizer.com/phosphates/20102022/keras-resources-extended-mining-campaign-completed-at-diamond-creek-phosphate-mine/
You might also like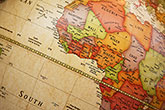 Further to its announcement on 19 December 2022, Kropz Plc has confirmed its first shipment and sale of 33 000 t of phosphate concentrate from Kropz Elandsfontein (Pty) Ltd.