---
Keras Resources has announced that it now owns 100% of Falcon Isle Resources LLC and Falcon Isle Holdings LLC, having acquired the outstanding 49% minority interests of Falcon Isle from the Helda Living Trust (HLT). Falcon Isle owns the high-grade Diamond Creek organic phosphate lease and mine, and the Spanish Fork processing facility in Utah, US. Keras has now assumed full management of Falcon Isle and production has recommenced operations at the processing facility.
Keras had been looking to resolve the funding shortfall at Falcon Isle and engaged local US legal representatives to enforce its rights of the terms of the transaction agreed in June 2020, under which Keras secured a 51% stake in Falcon Isle effective 29 December 2020. Further to these discussions, agreement has been reached whereby Keras has purchased the outstanding 49% equity interest in Falcon Isle for a total consideration of US$3.2 million including loans repaid to the vendor of Falcon Isle of US$1 816 527. To preserve cashflow for developing the project, this will be paid in four annual instalments of US$800 000 commencing on 1 July 2022 with the final payment on 1 July 2025. Concluding this agreement has ensured that the company avoids a lengthy and costly litigation process in the US and allows Falcon Isle to recommence operations to meet demand in the key spring season.
The losses in the financial year ended 31 December 2021 attributable to the 49% interest in Falcon Isle acquired were US$24 187.
Russell Lamming, CEO of Keras, commented: "We are delighted to have acquired 100% of Falcon Isle, securing the high-grade Diamond Creek phosphate mine and strategically located Spanish Fork processing plant in a very buoyant organic fertiliser market. Although processing operations were temporarily suspended whilst we sought this resolution, our management team has been on site regularly to oversee sales from our inventory of processed material and ensure business continuity, specifically retaining our customer base and maintaining relationships with key contractors. The payment terms have been structured to use cash generated from the operation and minimise additional funding. We have a 3-month window to explore financing options before the first tranche is due and have already initiated discussions with key customers to look at funding solutions.
"This acquisition has brought what has been an incredibly frustrating period for the Company to a close and results in Keras now having complete autonomy over all mine to market activities. With a total mined inventory of over 10,000 tons, including 4,000 tons of processed, saleable product available, we are extremely well placed to convert this to cashflow and increase our market share. We will also be consolidating the long term future of the Company through a targeted exploration programme to underpin future production. The organic phosphate market is on an upward trajectory, with robust long term fundamentals, operations have recommenced and we look forward to realising the full and true value inherent within the Diamond Creek asset."
Read the article online at: https://www.worldfertilizer.com/phosphates/11042022/keras-resources-acquires-full-ownership-of-diamond-creek-phosphate-mine/
You might also like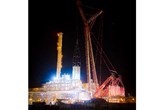 The company developed a solution to upgrade the plant's original towers by lifting out the old intact assets, and manoeuvring the modular replacements into position.