---
Australia-based company Minbos Resources has lodged an Australian provisional patent application for a new phosphate rock fertilizer blend, with the potential to produce a 100% organic phosphate fertilizer using less reactive phosphate rocks.
New patent application has been filed to cover the new phosphate rock fertilizer blend following analysis of results comparing different product forms of the Cabinda Phosphate Granules in field trials in Angola and greenhouse trials at the International Fertilizer Development Centre (IFDC) in the US, and a survey of literature.
According to Minbos, the new phosphate rock fertilizer blend promotes the early release of phosphate nutrients from phosphate rock, potentially eliminating monoammonium phosphate (MAP) from the proposed Cabinda Phosphate granule formulation – delivering a 100% organic fertilizer blend.
Production of the new phosphate rock fertilizer blend can potentially be applied to the proposed Minbos Granulation Plant and be incorporated in the production profile from commissioning in 2022.
The new fertilizer blend covered by the patent application will be trialled during the company's 2021/22 growing season through soil incubation tests, growth chamber trials, greenhouse and field trials. A cost benefit analysis will be conducted after these trials.
Minbos intends to apply for patent protection in major global agricultural markets to ensure the availability of organic fertilizer in Angola and the region.
"This is a promising development for the company's plans to participate in the development of a regional agricultural powerhouse. The new fertilizer blend has the potential to deliver healthy, organic crop yields for Angola and its farming communities for decades to come. The company will continue to invest in ag-tech R&D in the coming years with the believe [sic] that fertilizer use and population growth walk hand-in-hand," said Minbos CEO Lindsay Reed.
Read the article online at: https://www.worldfertilizer.com/phosphates/09062021/minbos-submits-provisional-patent-for-100-organic-phosphate-fertilizer/
You might also like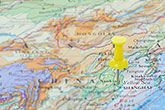 Casale's granulation process has been chosen for Xinjiang Xinji Energy's recycling project.