---
Centrex Metals Ltd has announced that an independent pilot plant trial has been completed for the production of phosphoric acid from its premium 35% P2O5 grade low cadmium phosphate rock concentrate from its Ardmore phosphate rock project in North West Queensland, Australia.
The trial lasted 72 hours, and was completed in the US by KemWorks – a company that specialises in phosphate fertilizers. The results of the pilot run confirm that the phosphate rock concentrate is high quality, showing 98% P2O5 recovery, relatively low sulfuric acid consumption, good filtration, little scaling or corrosion, and a low minor element ratio in the phosphoric acid product. KemWorks has concluded that the phosphoric acid produced from the Ardmore rock is well suited to the production of granular fertilizers, such as diammonium phosphate (DAP).
In the statement, Centrex claims that it is planning to export high grade phosphate rock from its Ardmore project to Asian fertilizer producers that operate phosphoric acid plants for fertilizer production. In addition to this, the company claims that it will also export its product to Australian and New Zealand importers who use phosphate rock directly in the production of single superphosphate (SPP).
The results from KemWorks' trial have been sent to a number of potential customers that produce phosphoric acid, including Gujarat State Fertiliser & Chemical Co. (GSFC). Centrex and GSFC have already signed a non-binding memorandum of understanding (MoU) for 300 000 tpy of long-term offtake from the project. Both parties are now in the process of negotiating the full terms of the binding offtake agreement.
In addition to this, Centrex claims that KemWorks has also completed SPP trials for the Ardmore phosphate rock concentrate, with the full analysis and report due imminently. Recently, Centrex delivered two 400 t samples of run of mine ore to two customers in the local region for trial in their SPP plants.
The fertilizer conversion test work by KemWorks will help marketing efforts by Centrex, and will feed into the feasibility study for the project currently targeted for completion in August this year.
Read the article online at: https://www.worldfertilizer.com/phosphates/06072018/test-work-confirms-high-quality-of-ardmore-phosphate-rock/
You might also like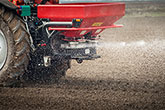 The company highlighted the role of the fertilizer industry by addressing global agricultural value chain challenges at the IFA conference in the Czech Republic.