---
Koch Ag & Energy Solutions (Koch) and OCP have signed an agreement under which a Koch affiliate will acquire a 50% interest in Jorf Fertilizers Co. III (JFC III) from OCP. When closed, the transaction will establish a 50/50 joint venture.
JFC III owns and operates an integrated phosphate fertilizer production facility in Jorf Lasfar, Morocco, with the capacity to produce up to 1.1 million metric tpy of phosphate-based fertilizers. JFC III is one component of the Jorf Fertilizer Complex, the world's largest phosphate fertilizer production platform.
JFC III's production will be marketed by OCP and Koch Fertilizer, LLC. Additionally, the companies will collaborate on the supply of ammonia and sulfur to OCP and leverage their logistical capabilities for the shipment of fertilizers from Morocco.
"The venture builds on Koch's long-standing relationship with OCP and a shared vision to expand phosphate offerings globally," said Scott McGinn, Koch Fertilizer executive vice president. "We are excited to grow Koch Fertilizer from a predominately nitrogen producer and distributor by offering a larger suite of phosphate products to our customers. We look forward to collaborating with OCP and leveraging the unique capabilities of both companies." "Our collaboration with Koch is now entering a new phase after more than a decade of commercial relationship," said Soufiyane El Kassi, Chief Growth Officer of OCP. "Koch is a key strategic partner with a shared vision on how to best serve farmers and agriculture. Through this transaction, we are happy to welcome another leading industrial player such as Koch to Morocco."
Read the article online at: https://www.worldfertilizer.com/phosphates/03032022/koch-to-acquire-50-stake-in-jorf-fertilizers-co-iii-from-ocp/
You might also like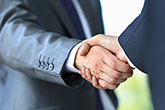 The company has initiated discussions with Unigel Participações S.A. to analyse joint business involving opportunity development in the areas of fertilizers, green hydrogen and low-carbon projects, in line with the revision of the strategic elements for Petrobras' Strategic Plan 2024 – 2028.