---
OCI has released its 1Q17 trading update, which includes the following highlights:
Own-produced volumes sold increased 12.0% in 1Q17 compared to 1Q16.
Egypt urea use rate c.100% during 1Q17 and in April.
Expect EBIC to regain access to its export jetty by June 2017.
Realised selling prices up from the fourth quarter, on average lower than in first quarter last year.
Net debt stood at US$4.3 billion as of 31 March 2017.
Iowa Fertilizer Co. commenced production and sales in April 2017.
Natgasoline 81.1% complete as at 31 March 2017, expect commercial production in 4Q17.
Board has approved refurbishment of second methanol production line at BioMCN.
During the first quarter of 2017, own-produced fertilizer and chemical volumes increased by 12.0% to a record 1.7 million metric t compared to 1.5 million metric t the same period last year, and also increased by 5.6% compared to the fourth quarter of 2016.
The fertilizer segment ramped up production with higher use rates in North Africa and a return to normalised operating rates in the Netherlands. Total own-produced fertilizer (ammonia, urea and nitrates) volumes improved 13.3% in 1Q17 compared to 1Q16. Iowa Fertilizer Co. (IFCo) has not yet contributed to first quarter volumes, as production and sales started in April.
Ammonia volumes were significantly higher than last year, primarily driven by a good performance from Sorfert in Algeria.
Urea volumes were boosted by Egyptian Fertilizers Co., which was running at full use during the quarter. Future gas supply to the plants in Egypt is looking increasingly secure. BP started gas production from its West Nile development in March, eight months ahead of schedule. When fully on stream, the West Nile Delta fields are expected to reach production equivalent to about 30% of Egypt's current gas production.
Calcium ammonium nitrate (CAN) and urea ammonium nitrate (UAN) reported volumes in line with previous quarters. In 1Q16, CAN volumes were low due to the Quarterly figures are based on unaudited results previously reported shutdown, which also resulted in higher UAN volumes than can normally be achieved when CAN is running at high usage.
Read the article online at: https://www.worldfertilizer.com/nitrogen/25052017/oci-egypt-urea-use-rate-at-100/
You might also like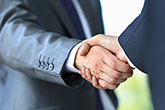 The company has announced a new joint venture developing green ammonia and fertilizer projects with the focus on Central America and the Caribbean.