---
Sociedad Química y Minera de Chile S.A. (SQM) has released its results for 1Q18, reporting earnings of US$113.8 million, up from US$103.2 million in 1Q17.
The company also claims that gross profit reached US$192.7 million (37.1% of revenues) for 1Q18, up from US$177.9 million (34.3% of revenues) in 1Q17. In addition to this, revenues totalled US$518.7 million, which was a 0.03% increase from the US$518.6 million reported in 1Q17.
Patricio de Solminihac, the CEO of SQM, stated: "Our results for the first three months of the 2018, were positive, the performance seen in our main business lines was strong. The lithium market and lithium prices continue to exceed expectations. In the potassium chloride and potassium sulfate business line, sales volumes were significantly lower, and as indicated before, should be lower than one million metric tons this year. As demand for potassium chloride and potassium nitrate grows, average prices in both of our fertilizer business lines increased compared to average prices reported during the fourth quarter of 2017. A trend we expect to continue during the remainder of 2018. In the SPN market, sales volumes were higher than what we reported during the first quarter of last year as a result of continued demand growth and limited supply from competitors. We are on track to reach 1.5 million tons of nitrates capacity this year. We expect to process about 10 – 15% more caliche ore this year in Nueva Victoria as part of this major project. As the largest player in this market, with about 50% market share, we will work to have the permits and engineering ready to further expand our capacity if the market demands it.
"We were pleased to see a positive pricing trend in the iodine market, and average prices were significantly higher during the first quarter of 2018 than prices seen during the same period last year. Sales volumes reached 3200 MT, and we believe we will be able to sell approximately 13 000 MT this year. Our iodine expansion is also on target to reach 14 000 MT of capacity by the end of this year.
"In the lithium market, demand continues to grow at record rates, and total market demand should be over 20% more in 2018 than seen last year. Average prices during the first three months of this year surpassed US$16 000/MT given a tight supply and demand balance. We believe that this price pressure will continue throughout the first half of the year.
"Given this lithium demand growth, we plan to increase our capacity in Chile in three different stages and continue with the developments of our projects in Argentina and in Australia. As previously disclosed, during 2018 in Chile, we have been working to expand our production from 48 000 to 70 000 MT, with a total CAPEX of US$75 million. We expect this additional 22 000 MT of capacity to be operating by the end of this year. The second stage of the expansion in the Salar de Atacama, in which we will increase production from 70 000 to 120 000 MT (previously 100 000 MT), will be completed in the next 18 months with a total investment of US$200 million. Finally, we will add an additional 60 000 metric tons of capacity to our operations, investing around US$250 million to increase our capacity from 120 000 MT to 180 000 MT. We expect this third stage to be online by early 2021. We believe that with demand growing close to 20% this year and next year, the market will be able to absorb this additional supply. However, we reiterate that we are constantly reviewing market conditions; our strategy is to have the installed capacity to react to the market demand."
Read the article online at: https://www.worldfertilizer.com/nitrogen/24052018/sqm-releases-results-for-1q18/
You might also like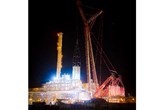 The company developed a solution to upgrade the plant's original towers by lifting out the old intact assets, and manoeuvring the modular replacements into position.