---
Acron has released its audited consolidated IFRS financial statements for 2019.
Key financials
Revenue was RUB114 835 million, up 6% y/y, (2018: RUB108 062 million). In dollar equivalent, revenue was up 3% to US$1774 million from US$1723 million.
EBITDA was down 4% y/y to RUB35 749 million (2018: RUB37 053 million). In dollar equivalent, EBITDA was down 7% to US$552 million from US$591 million.
EBITDA margin was 31%, against 34% a year before.
Net profit was up 86% y/y to RUB24 786 million (2018: RUB13 318 million). In dollar equivalent, net profit increased 80% to US$383 million from US$212 million.
Net debt was up 2% to RUB75 185 million, against RUB74 025 million as of 2018 year-end. In dollar equivalent, net debt was up 14% to US$1215 million from US$1066 million.
Net debt/EBITDA was 2.1, up from 2.0 as of 2018 year-end. In dollar equivalent, the ratio was 2.2, against 1.8 as of 2018 year-end.
Operating results
Output of key products stood at 7 458 000 t, down 1% y/y.
Sales of key products totalled 7 569 000 t, up 4% y/y.
Alexander Popov, Chair of Acron's Board of Directors, commented on the results: "In 2019, Acron Group's sales hit a record high of 7.6 million t, and the sales geography expanded to cover 78 countries worldwide. Over the course of the year, the Group implemented several investment projects. The ammonia unit upgrades at Dorogobuzh and construction of the nitric acid unit in Veliky Novgorod were completed and operate efficiently. Another two major projects entered the active implementation stage: urea granulation will be commissioned in 2Q20, and the construction of the Urea-6+ unit will be completed in early 2021. In 2019, the Group made capital investments of US$294 million, its maximum amount for the last five years.
"That said, declining global mineral fertiliser prices in the second half of the year affected the Group's financial performance. To address this situation, we decided to slow down implementation of the investment programme and refrain from taking on any new projects until the market recovers. This step will help us temporarily minimise CAPEX and prevent the debt burden from increasing, while meeting performance targets in terms of both operations and dividends. In 2019, the Group allocated US$221 million in dividends".
Read the article online at: https://www.worldfertilizer.com/nitrogen/24032020/acron-group-releases-2019-financial-results/
You might also like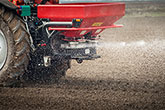 The company highlighted the role of the fertilizer industry by addressing global agricultural value chain challenges at the IFA conference in the Czech Republic.