---
Heraeus and Hensel Recycling GmbH have signed a long-term cooperation contract for the processing of precious metal wastes. Heraeus will recycle precious metal scrap collected by Hensel Recycling, taking over Hensel's Vino Plasma facility in Karlstein (near Aschaffenburg) for this purpose.
Vino Plasma operates one of the world's most modern plasma smelting furnaces for the recovery of platinum group metals (platinum, palladium, rhodium), mostly from automotive exhaust catalysts.
"This agreement strengthens the core competencies of both companies. Heraeus secures long-term access to new precious metal recycling streams, and with the new plasma technology, the company expands its globally leading position in the processing of platinum group metals," said André Christl, President of Heraeus Metal Management.
"We are pleased about this cooperation with Heraeus. Hensel Recycling is already one of the largest specialists in the recycling of automotive catalysts. We have established the smelting process and made it part of our regular recycling operations. Heraeus will now vigorously pursue its industrial development. This cooperation therefore meets an important prerequisite for further growth," said Clemens Hensel, a co-owner of Hensel Recycling GmbH.
Designed for the recovery of platinum group metals from exhaust catalysts, the plasma smelting furnace is the only one of its kind in continental Europe. The furnace is operated using an electrical plasma, which makes it energy efficient and low in emissions. The plasma furnace is primarily used to process the ceramic substrates (monoliths) of catalytic converters. These generally contain two to three grams of platinum group metals per kilogram of ceramic. The ground ceramic material is separated into collector metal and slag at temperatures far above 1000°C. In the process, the feed material is almost completely recycled. The concentrated collector metal, which contains precious metals, is then further processed within the Heraeus precious metals cycle to recover the fine metals.
Read the article online at: https://www.worldfertilizer.com/nitrogen/22122016/heraeus-and-hensel-recycling-commit-to-processing-precious-metals-waste/
You might also like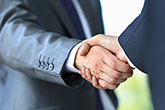 The company has announced a new joint venture developing green ammonia and fertilizer projects with the focus on Central America and the Caribbean.