---
Karnalyte Resources Inc. has announced its financial results and operational and corporate highlights for the First Quarter ended 31 March 2019.
Wynyard Potash
Karnalyte is encouraged by the continuing improvement in potash prices, however, they have not yet reached the level where Wynyard Potash is an economically viable and financeable mining project. Global economic uncertainty continues to prevail, making developing and financing a major capital project like Wynyard Potash more challenging.
The company has stated that it intends to take prudent and disciplined approach to the development of Wynyard Potash, as it updates initial capital costs and operating costs during the balance of 2019 in order to position the company to advance the development of Wynyard Potash when feasible.
Proteos Nitrogen
Proteos Nitrogen is a compelling part of Karnalyte's future. Moving into the manufacturing of nitrogen will provide valuable diversification away from a reliance on potash alone and give us another market in which to do business. Our current focus is on land assembly for site acquisition, which will be followed by environmental baseline field work, technology provider selection and initial technical work to solidify the technical project and establish initial project economics. Our discussions with local agricultural industry partners regarding their potential participation in Proteos Nitrogen continues.
2019 First Quarter Results
At 31 March 2019, the company had cash of US$9.2 million, a positive working capital of US$9.5 million and no debt. The company has adequate cash to fund any existing commitments in 2019, as well as to meet short term operating and capital requirements. Karnalyte's First Quarter 2019 financial statements and managements' discussion and Analysis are available here.
Read the article online at: https://www.worldfertilizer.com/nitrogen/20052019/karnalyte-resources-inc-announces-2019-first-quarter-results/
You might also like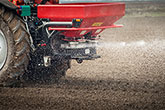 The company highlighted the role of the fertilizer industry by addressing global agricultural value chain challenges at the IFA conference in the Czech Republic.