---
Vivakor Inc. has released a statement claiming that it has acquired strategic intellectual properties (IP) from QuantumSphere Inc. (QSI).
In an all-stock transaction, Vivakor secured patented Nanocatalyst IP from QSI. This technology produces a number of catalytic elements in the 30 – 60 nanometer range. Vivakor claims that the result is a catalyst that has a high surface area yielding greater catalytic activity. Approximately 90% of all chemical processes make use of catalysts and, due to the requirement for cleaner fuels and more efficient chemical production processes, worldwide demand for catalysts is forecasted at over US$20 billion in 2019, according to Vivakor.
FeNIX is QSI's lead product, and is an iron-based nanocatalyst designed for use in ammonia production. It is applied as a coating to existing standard commercial ammonia catalysts and is considered a 'drop-in' solution. This is key when introducing and commercialising a catalyst enhancement technology in the chemicals industry.
In 2015, FeNIX product efficacy was demonstrated in two commercial ammonia plants. The plants, located in central China, reported an improvement of up to 15%. Because of the increase in catalytic activity, higher production conversion rates can help to reduce consumption of energy and increase production output. As a result, this provides greater profits to chemical plant owners and operators.
In the statement, Vivakor claims that it will leverage QSI's patented capabilities and existing commercial relationships in order to help penetrate the US$100 billion ammonia market. The company will also use QSI's IP to develop catalysts for other chemicals markets, including methanol, hydrogen, light olefins, and other hydrocarbon-based processes.
Read the article online at: https://www.worldfertilizer.com/nitrogen/19092017/vivakor-acquires-strategic-intellectual-properties-from-qsi/
You might also like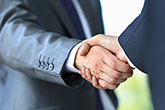 The company has initiated discussions with Unigel Participações S.A. to analyse joint business involving opportunity development in the areas of fertilizers, green hydrogen and low-carbon projects, in line with the revision of the strategic elements for Petrobras' Strategic Plan 2024 – 2028.