---
Acron has announced its 1H17 fertilizer results, which can be seen in full here.
Chairman of Acron's board of directors, Alexander Popov, commented on the results:
"In 1H17, Acron Group companies increased mineral fertilizer output nearly by a third, to over 3 million t. The record high results were due to the stable operation of the new ammonia unit, commissioned in 2016 at Acron's Veliky Novgorod facility, and to upgrades of core operations at both of the Group's production sites.
"Acron's Veliky Novgorod facility increased the capacity of its four urea units, commissioned in 1969 - 1970, to 1800 tpd. Once the upgrades on the fifth urea unit are completed, aggregate capacity will reach 3000 tpd. We also decided to build a sixth urea unit with a capacity of 600 tpd. That project is expected to be completed in the summer of 2018.
"Acron's Veliky Novgorod facility also posted record high numbers for its NPK units, where an overhaul was started in early 2016. During this period, each of the two units increased NPK output more than 10% to 2000 tpd from 1840 tpd. The company plans to ramp up production to 2100 tpd.
"In 2016, Dorogobuzh completed an overhaul of its ammonium nitrate and NPK units, and the company launched an upgrade of its ammonia unit this year. Once the project is completed, capacity will be up to 2100 tpd from 1740 tpd, for an annual output of 130 000 t.
"The decrease in apatite concentrate output at the Oleniy Ruchey mine is due to extensive stripping operations in 1Q17. At the same time, the output in 2Q17 reached a historical record high. The mine is expanding, and the start of ore production is scheduled for this year."
Market trends
The mineral fertilizer market in 2Q17 is traditionally characterised by low seasonal demand. In this context, the increase in global urea supply pushed prices for this product down from local record highs seen in 1Q17. The slowdown in India's imports added pressure. At the same time, exports from China shrank to half what they were the previous year. China remains a stabilising factor in the market. According to our estimates, the cost of urea production for most Chinese producers is US$245 FOB/t because of the high prices for coal, used as a raw material, and the strengthening of the yuan in recent months. Consequently, we do not expect a considerable drop in global urea prices from the current levels.
The prices for premium nitrogen fertilisers – ammonium nitrate and urea-ammonium nitrate – also declined in 2Q17, although more moderately than for the basic product – urea. As a result, these products' premiums increased.
NPK prices in 2Q17 were relatively stable. Amid lowered prices in the nitrogen and phosphorous segments, NPK fertilisers were supported by higher potash prices. NPK premiums to the product basket remain high.
Read the article online at: https://www.worldfertilizer.com/nitrogen/14072017/acron-announces-1h17-fertilizer-output-results/
You might also like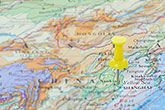 Casale's granulation process has been chosen for Xinjiang Xinji Energy's recycling project.