---
The Fertilizer Institute (TFI) has named the 2017 4R Advocate winners, who represent five farmer and retailer partnerships who are leading the way in implementing 4R Nutrient Stewardship practices on the farm. This year's advocates farm 13 200 acres of land using 4R Nutrient Stewardship practices.
"4R Nutrient Stewardship is a top priority for the fertilizer industry, which is committed to enhancing environmental and economic sustainability across their operations – from the production plant to on-farm application," said Chris Jahn, TFI President. "Today, we honour those in the industry who are exemplifying this commitment and using the 4R principles to increase yields, improve soils, and decrease fertilizer's environmental footprint."
Now in its sixth year, the 4R Advocate Program has recognised 30 agricultural producers and retailers. These forward-thinking individuals serve as examples by championing sound nutrient stewardship.
The 2017 Advocates include:
Gary Reeder, Palmetto.
Dennis Coleman, Crop Production Services.
Kyle Brase, Edwardsville.
Joe Huebener, CHS Shipman.
Grant Strom, Brimfield.
Adam Dexter, West Central FS Inc.
Dave Legvold, Northfield.
Ken Thomas, Farmers Mill & Elevator Inc.
Lynn Fahrmeier, Wellington.
Scott Bergsieker, MFA Inc.
These winners will receive an expense-paid trip to the 2017 Commodity Classic, where they will be honoured at an awards banquet hosted by TFI. The 4R Advocate programme is one of many facets of a high-priority campaign to raise awareness and adoption of 4R Nutrient Stewardship practices. Fertilizer is a component of sustainable crop production systems, and the fertilizer industry recognises the need to efficiently use these nutrients.
Read the article online at: https://www.worldfertilizer.com/nitrogen/13122016/tfi-announces-2017-4r-advocate-winners/
You might also like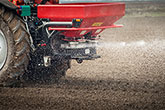 The company highlighted the role of the fertilizer industry by addressing global agricultural value chain challenges at the IFA conference in the Czech Republic.