---
Terra Nitrogen Co. LP (TNCLP) has announced that Terra Nitrogen GP Inc. (TNGP) – a Delaware corporation and the sole general partner of TNCLP – has elected to exercise the right, assigned to TNGP by TNCLP, to purchase all issued and outstanding common units representing limited partner interests in TNCLP not already owned by TNGP or its affiliates.
TNGP will reportedly buy the units on 2 April 2018 for US$84.033 per unit. The purchase price was determined in accordance with Section 17.1 of the partnership agreement as the average of the daily closing prices per common unit for the 20 consecutive trading days beginning with 5 January 2018 and ending with 2 February 2018.
As of the purchase date, all rights of the holders of the units will cease, except for the right to receive payment of the purchase price. After the purchase has been completed, TNGP will own 100% of the units and will be entitled to all benefits resulting from the units. In addition to this, once the purchase has been completed, the common units representing limited partner interests in TNCLP will cease to be publicly traded or listed on the New York Stock Exchange.
In the statement, TNCLP also announced the declaration of a cash distribution for the quarter ended 31 December 2017 of US$2.03 per common limited partnership unit. The distribution is payable 28 February this year to holders of record as of 16 February.
Cash distributions depend on TNCLP's cash requirements for working capital needs and CAPEX, as well as its earnings, which can be impacted by the selling prices of nitrogen fertilizer, as well as natural gas costs, seasonal demand factors, production levels and weather conditions. The calculation of available cash for the cash distribution for the quarter ended 31 December 2017 included the proceeds from the previously announced sale of TNCLP's 50% interest in the Oklahoma CO2 Partnership joint venture that closed in 4Q17. Cash distributions per limited partnership unit also vary based on increasing amounts allocable to the general partner when cumulative distributions exceed targeted levels. With this distribution, TNCLP cumulative distributions continue to exceed the levels that were targeted. As a result of TNGP's exercise of the right to purchase the units, there will be no further cash distributions on the common limited partnership units after the distribution payable 28 February 2018.
Read the article online at: https://www.worldfertilizer.com/nitrogen/08022018/tnclp-reports-exercise-of-right-to-purchase-common-units/
You might also like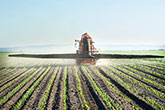 The new facility will deliver significant benefits to Western Australian grain growers.