---
Solvay and Petrovietnam Ca Mau Fertilizer Joint Stock Co. (PVCFC) have signed a Memorandum of Understanding (MoU) to launch innovative and eco-friendly enhanced efficiency fertilizers, which will increase yields for farmers while decreasing nitrogen losses in the air, soil and water and in turn reducing environmental and climate impact.
The use of nitrogen-based fertilizer has increased dramatically in recent years and the amount of nitrogen supplied is critical to the overall quality and growth of the crops. However from an economic and an environmental point of view, there is a need to improve nitrogen use efficiency.
Solvay Novecare has developed the proprietary and patented AgRho® N Protect series, a full range of innovative and eco-friendly nitrogen stabilisers based on advanced formulations, which facilitate the incorporation of urease and nitrification inhibitors into granular and liquid fertilizers. These stabilisers limit nitrogen volatilisation and leaching, therefore increasing the amount of time the nitrogen remains in the soil and is available to the plant for absorption.
The MoU was signed on 2 November 2016 in the presence of the Vietnamese Ministry of Industry and Trade and the Royal Embassy of Belgium at the opening of a three day innovation workshop organised by Solvay and Petrovietnam at Ho Chi Minh City.
Both parties have been conducting laboratory and field trials on rice, maize, coffee and pome-lo/orange plantations at several locations in Vietnam since 2015. Under the terms of this agreement, the successful outcome of these trials will enable PVCFC to launch new innovative and eco-friendly Enhanced Efficiency Fertilizers in the coming months.
"This agreement with PVCFC is an opportunity for Solvay to improve the agricultural productivity in Vietnam and positively impact the environment," said Valdirene Licht, Vice-President & General Manager of Solvay Novecare Asia Pacific.
"The memorandum of understanding between PVCFC and Solvay for cooperation in research and development of new fertilizer products and nutrition solutions for improving the crop yield and quality will contribute to increasing the competitiveness of Vietnam agricultural products" said Mr Bùi Minh Ti?n, CEO of PVCFC.
Read the article online at: https://www.worldfertilizer.com/nitrogen/07112016/solvay-and-petrovietnam-launch-eco-friendly-enhanced-efficiency-fertilizer-in-vietnam/
You might also like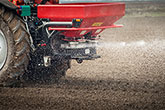 The company highlighted the role of the fertilizer industry by addressing global agricultural value chain challenges at the IFA conference in the Czech Republic.