---
The YaraIrix system includes a free-to-download app (for Android & iOS), which uses the smartphone camera to determine nitrogen demands of different crops in early growth stages.
For later growth stages, the app is supplemented by two hardware options (a smartphone clip and a Bluetooth N-Tester).
"Every field is different. By enabling farmers to simply use their smartphones for precision farming, YaraIrix is a game changer that can ultimately provide millions of farmers with new insight about their crops. We are now taking the first steps with the launch of YaraIrix across Europe. With access to precise data about the nutritional needs of crops, we can produce more food and reduce the environmental impact of farming at the same time," says Stefan Fürnsinn, SVP Digital Farming.
How YaraIrix works
YaraIrix's core function is the measuring of chlorophyll levels using a smartphone camera combined with one of two hardware devices. This enables precise measurements of the Nitrogen needs of crops and makes it easier for the farmer to apply the correct amount of fertilizer.
The app, without additional hardware, can determine the Nitrogen needs of winter wheat, oilseed rape, maize and barley during early growth stages. Once the app makes a measurement, it provides an instant recommendation for how much fertilizer the crops need. The recommendation is based on algorithms and knowledge accumulated by more than 20 years of field research.
The system can be supplemented with the N-Tester Clip. The hardware add-on clips over the smartphone camera and transforms it into a Nitrogen sensor. It enables precise Nitrogen recommendations at later growth stages. In its initial phase, the clip will be available to farmers who are members of the YaraIrix's Innovator Program. They will receive the N-Tester Clip in a private beta version prior to market launch to test.
Farmers can also purchase the N-Tester BT for the YaraIrix system that connects to smartphones via Bluetooth. The N-Tester BT provides recommendations for the abovementioned crops as well as winter and spring barley, winter rye and winter triticale in later growth stages. It also saves historical data to enable further optimizations for the farmer.
Read the article online at: https://www.worldfertilizer.com/nitrogen/07032019/yara-transforms-smartphones-into-nitrogen-sensors/
You might also like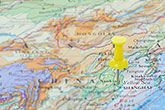 Casale's granulation process has been chosen for Xinjiang Xinji Energy's recycling project.