---
SafeTraces Inc. has announced that the world's first DNA-based traceability system for fertilizer has been delivered to 20 manufacturers in an unnamed NATO member country.
The company's D-ART 3000 systems are integrated into fertilizer bag-filling lines and mix a unique 'DNA Barcode' into each bag, totalling millions of unique DNA Barcodes each year. This can help tackle the issues of illegal diversion, tax evasion, misuse and adulteration. The first 20 systems are part of a multi-system order, with further deliveries planned for the coming months.
Coupled with a blockchain-based or centralised code registry system, SafeTracesTM DNA Barcodes create unbreakable links between physical objects and their digital certificates, enabling transaction recording and rapid verification at any point of the supply chain. SafeTraces claims that, when used with most commodities, the DNA Barcodes will be stable for more than two years. The D-ART 3000 system is part of the company's complete solution that includes DNA Barcode customisation and dispensing, DNA Barcode tracking systems, test instruments and test kits.
The CEO of SafeTraces, Anthony Zografos, said: "The D-ART 3000 is the first system that brings DNA tagging from the laboratory to industrial settings.
"We developed an easy-to-use, yet robust and low-cost solution that includes FDA approved, food-grade DNA Barcodes. We are putting the power of modern molecular technologies in the hands of industrial customers and end users. The response from customers in a wide range of industries has been universally enthusiastic."
In the statement, SafeTraces claims that it is actively marketing its new system to fertilizer manufacturers and government organisations in Africa, Asia and Europe. In addition to this, the company is also demonstrating the solution in sustainable commodities, such as palm oil, oil seeds and beans.
Zografos added: "Mislabelling of sustainable products is a worldwide problem as ingredients pass through multiple intermediaries between growers and processors. Products are mixed or replaced along the supply chain with non-certified substitutes, putting a brand's sustainability claims into question. The only solution is greater supply chain transparency, and SafeTraces provides unparalleled source assurance, even in the most complex supply chains."
Read the article online at: https://www.worldfertilizer.com/materials-handling/10012018/worlds-first-dna-based-traceability-system-for-fertilizer-delivered/
You might also like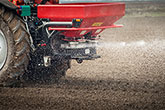 The company highlighted the role of the fertilizer industry by addressing global agricultural value chain challenges at the IFA conference in the Czech Republic.