---
Applied DNA has announced that it will introduce DNA-tagged fertilizer to Turkey and countries in West Africa and Asia.
This follows interest in the company's molecular tagging technology, which prevents fertilizer adulteration, secures supply chains to the global farming industry, and tracks the origin of fertilizers used for nefarious purpose. Early planning workshops indicate that tagged fertilizer may enter targeted markets during early 2018, and other locations throughout the rest of the year.
Previously, the company completed a pilot project for the large scale molecular tagging of fertilizer that was successfully tracked through a West African supply chain. Following this, the company started to determine how DNA-tagged fertilizer and associated authentication systems could be best introduced. According to a 2015 study by the Food and Agriculture Organization of the United Nations, Asia is the world's largest consumer of fertilizer, accounting for 60% of total fertilizer consumption.
In Turkey, Applied DNA claims that legislators have mandated DNA-tagging of all domestically produced fertilizer by 1 January 2018, and secure packaging, including the use of secured bar codes, which could possibly be enabled by the platform recently commercialised through the Videojet and Applied DNA collaboration. This mandate comes as part of the response to a number of terror acts that made use of fertilizer-based explosives in Turkey last year. Applied DNA has been in communication with Turkish fertilizer manufacturers since early 2016, and has publicly demonstrated the ability to tag fertilizer at scale and successfully track it through all aspects of the supply chain. To date, Applied DNA does not have any specific orders from Turkey. In addition to this, the company is also developing a method that it believes will enable the detection of fertilizer tags, even following an explosion. This would allow governments and law enforcement to track the origins of fertilizers used in improvised explosive devices.
The President and CEO of Applied DNA, James Hayward, said: "The introduction of our technology platform to these additional geographies that cumulatively represent the majority of world demand for fertilizer is a clear demonstration of our ability to service large commercial ecosystems.
"From textiles to the biopharma industry and now fertilizer, our technology platform is increasingly being viewed by supply chain participants as strategic to their business goals."
The Managing Director of Applied DNA in Europe, Tony Benson, added: "Tracking fertilizers in a large, complex commercial ecosystem is an unmet demand required by farmers and governments, especially those dependent upon their agro economies. Our solution is practical, and readily implemented.
"The impact of our technology and the significant benefits to at-risk families in countries where many people are already disadvantaged cannot be over-estimated. People are starving and economies are suffering due to the blatant cheating that is taking place of which there are many published examples of fertilizers being adulterated leading to crop failures. We are delighted and humbled to be part of a technical solution that will positively change the wellbeing of so many people."
Read the article online at: https://www.worldfertilizer.com/materials-handling/05122017/applied-dna-to-introduce-dna-tagged-fertilizer/
You might also like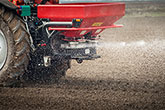 The company highlighted the role of the fertilizer industry by addressing global agricultural value chain challenges at the IFA conference in the Czech Republic.