---
GSI's InterSystems brand has introduced a new fertilizer plow conveyor to the market, offering an alternative to traditional conveyor systems for sorting incoming product at fertilizer handling facilities.
The wedge-shaped device is capable of replacing a standard tripper conveyor because it is lighter, smaller and does not result in any loss in capacity. In addition to this, by maintaining an even pile peak, it is reportedly 20 – 30% more efficient than a drag conveyor by eliminating the voids in the product pile that occur between the gates.
The plow also requires a smaller building head-house, offering savings in the construction of new facilities. The company claims that the plow can offer a competitive advantage by replacing conveyor systems in existing fertilizer plants, as at the North Central Grain Cooperative in Bisbee, North Dakota, US.
The plow operates at 950 tph. This is compared to North Central Grain Cooperative's previous plow, which had an operating rate of just 200 tph. The facility also operates a conventional tripper conveyor housed in a recent plant expansion. That system reportedly cost approximately three times more than the GSI fertilizer plow conveyor and, due to the tripper system's larger footprint, added over US$300 000 to the cost of the expansion project.
Nate Reznechek, crop nutrient equipment sales director for GSI, said: "We expect this plow technology to be a game changer in the fertilizer industry.
"Facility owners are looking for innovative solutions like this that can deliver improved efficiency and cost savings for their operations."
Read the article online at: https://www.worldfertilizer.com/materials-handling/01062018/gsis-intersystems-brand-introduces-new-fertilizer-plow-conveyor/
You might also like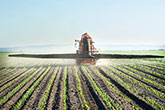 The new facility will deliver significant benefits to Western Australian grain growers.