---
Nysnø Climate Investments, Equinor Ventures and Yara Growth Ventures have become the first Norwegian Limited Partners in AP Ventures' Fund II, which focuses on investing in the hydrogen economy.
The investment is set up to contribute to establishing a well-functioning market and value chain for hydrogen in Norway and around the world.
AP Ventures invests globally in the hydrogen value chain from production to transport, through storage and to end use. Norway is an area of focus for the Fund as a strategic location for green and blue hydrogen, due to the availability of hydropower, carbon capture, utilisation and storage (CCUS) capability, strong shipping and offshore industries and a leading position in the process industry. AP Ventures has already invested in two Norwegian technology companies, ZEG Power and Hystar. ZEG Power produces blue hydrogen with integrated carbon capture and Hystar produces green hydrogen through PEM electrolysis.
"We look forward to collaborating with knowledgeable investors in the hydrogen space - bringing deep industry insight to a value chain that is especially exciting for Norway. AP Ventures mobilises private capital to build up an ecosystem for hydrogen globally and offers Norwegian companies access to a larger global market", said Eivind Egeland Olsen, Chief Investment Officer at Nysnø Climate Investments.
"Our ambition is to grow new business opportunities that enable a green transition in fertilizer production, shipping and energy intensive industries. Investing in start-ups that drive innovation throughout the clean hydrogen value chain is a key focus area for us. We are excited to join AP Ventures and work closely with our partners to make the clean hydrogen revolution a reality," said Erkki Aaltonen , Head of Yara Growth Ventures. Yara Growth Ventures is the venture capital arm of Yara International ASA, focusing on investing in startups and as a Limited Partner in VC funds.
"Equinor's ambition is to reach net-zero emissions by 2050 and an important tool for success is to develop profitable value chains for carbon capture and storage and hydrogen. In order to develop such value chains, we need to work together with partners. The investment in AP Ventures will help us explore and expand our knowledge of hydrogen solutions that can play a role in the energy transition. We look forward to working closely with AP Ventures and other partners to create real impact", said Gareth Burns, Vice President Equinor Ventures.
"We see significant strategic value in welcoming a Norwegian consortium of Limited Partners. Nysno Climate Investments, Equinor Ventures and Yara Growth Ventures are investors we have known for a long time through our portfolio companies and we are very pleased to have formalised our relationship with them. Norway has the potential of leading Europe in the transition to a hydrogen-powered economy and we are excited for the opportunity this partnership will bring to our portfolio", said Kevin Eggers, Founder and Partner at AP Ventures.
Hydrogen is a promising energy carrier to reduce emissions from hard-to-abate sectors, such as industrial processes and long-haul transport. Bloomberg New Energy Finance estimates that clean hydrogen could account for 24% of global energy demand by 2050, up from 2% in 2020.
Following the commitments from Nysnø Climate Investments, Equinor Ventures and Yara Growth Ventures, AP Ventures' total assets under management are US$344 million. Existing investors include Anglo-American Platinum, Implats, the Mirai Creation Fund, Mitsubishi Corporation, Pavilion Capital, Plastic Omnium, the Public Investment Corporation and Sumitomo Corporation.
Read the latest issue of World Fertilizer in full for free: April 2021
The April issue of World Fertilizer begins with a regional report that examines the opportunities and challenges currently facing Latin America's fertilizer industry. The remainder of the issue is dedicated to a range of technical articles covering ammonia, blending and bagging, plant design, fertilizer cargo measurement and fertilizer storage. Our World Review of fertilizer projects in Africa and the Middle East, Asia Pacific, Europe and CIS and the Americas rounds off the issue.
Read the article online at: https://www.worldfertilizer.com/environment/30042021/nysn-climate-investments-equinor-ventures-and-yara-growth-ventures-join-hydrogen-economy-fund/
You might also like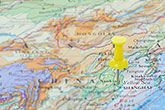 Casale's granulation process has been chosen for Xinjiang Xinji Energy's recycling project.