---
AHDB has published findings of an extensive review of the Fertiliser Manual RB209, which will form the basis of a new edition of the guide to be released in May 2017.
The £98 000 project was overseen by the AHDB-led UK Partnership for Crop Nutrient Management and delivered by an ADAS-led consortium of experts from across the UK research community. It was supported by £200,000-worth of in-kind funding by industry.
Farmers, growers, agronomists, breeders, researchers, fertilizer companies and other industry experts were among those consulted on how existing RB209 recommendations could be improved to incorporate the latest scientific advances.
The review, which took account of the latest research developments since 2009, was split into six distinct themed work packages: principles of crop nutrient management; organic materials; grass and forage; cereals and oilseeds; potatoes; and horticulture.
The process has generated a number of proposed changes, including updated recommendations for additional crops and information on the nutrient content of additional organic materials.
George Lawrie, who chairs the UK Partnership for Crop Nutrient Management steering group, said: "We've left no stone unturned during the review, every aspect of nutrient management has been revisited and scrutinised."
"Advances in nutrient management have been incorporated and the new guide will provide evidence-based nutrient management recommendations that growers can trust," Lawrie continued.
New format
RB209 offers best practice guidance in England, Wales and Northern Ireland on application of mineral fertilisers, manures and slurries to crops and grassland. The most recent edition was published by Defra in 2010.
In June 2015, AHDB announced that it would lead on the next revision of RB209 and formed the UK Partnership for Crop Nutrient Management to oversee the programme.
The updated edition will be split in to seven colour-coded sections, so users can cherry-pick relevant information and individual sections can be updated more easily to reflect the latest research.
Hard copies will be available at events next summer, starting with Grassland & Muck 2017 in Warwickshire on 24 and 25 May. An interactive digital edition is also being developed.
AHDB's Dr James Holmes, who is managing the RB209 revision, said: "The new format RB209 will be far more accessible and easy-to-use for farmers and their advisers, as well as better value for money for levy payers."
"Updates can be made on a section-by-section basis and produced at a lower cost than previous editions, meaning we can revise guidance more regularly so users can be ensured their nutrient management plans are based on the most up-to-date information and data possible," Holmes concluded.
For more information, visit http://www.ahdb.org.uk/projects/CropNutrition.aspx
Read the article online at: https://www.worldfertilizer.com/environment/25112016/ahdb-reviews-uk-fertilizer-manual-rb209/
You might also like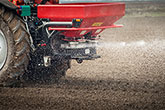 The company highlighted the role of the fertilizer industry by addressing global agricultural value chain challenges at the IFA conference in the Czech Republic.