---
Grupo Fertiberia has launched a plan to reduce emissions from its industrial activity to zero before 2035, within the framework of the Science-Based Targets initiative, and lead the development of the European green ammonia market.
This compound is obtained by replacing natural gas with hydrogen from renewable electrical energy and serves as the basis for producing plant nutrition solutions with no carbon footprint and products with a zero-carbon footprint, as well as other environmental solutions to reduce emissions in industry.
The plan, called Net Zero, is based, first of all, on the alliances that Grupo Fertiberia has established with European leaders in the energy market so that its main production centres in Spain form part of the large consortiums involved in the development of green hydrogen in the Iberian Peninsula.
These initiatives allow the company to lead the development of the fastest growing and most profitable market in the plant nutrition sector. In addition, they also reinforce the energy sovereignty of the EU, by replacing natural gas with indigenous and renewable energy sources.
According to the International Energy Agency, the demand for fertilizers developed from green ammonia is projected to grow 40% annually until 2050. "The world will need more production with fewer emissions, so our company is preparing for the future of this market", emphasised Javier Goñi, president of Grupo Fertiberia.
In addition, new markets are opening up for the company. To date, ammonia was used essentially for the production of plant nutrition solutions and industrial products to reduce emissions in other industries. Now, green ammonia has also become the fuel with the greatest potential to decarbonise the maritime transport sector, which enhances the capacity of Grupo Fertiberia's products to reduce greenhouse gas emissions. "Our main industrial centers are in strategic areas for maritime traffic, which opens up a market with enormous potential."
Together with the development of new capacities in the production of green ammonia, another of the initiatives to reduce emissions to zero will be the self-consumption of renewable energy in all its facilities. On the other hand, Grupo Fertiberia has also implemented a progressive change in the purchasing policy for raw materials to ensure that their production does not generate emissions.
"Between 2010 and 2020 we have been able to reduce the emission of greenhouse gases by Grupo Fertiberia by more than 63%, for years we have internalized the objective of permanently reducing the footprint of our activity and now we are leading a profound transformation to be the first large company in the sector to commit to achieving the goal of 'zero emissions' before 2035", said Goñi.
Read the article online at: https://www.worldfertilizer.com/environment/07042022/grupo-fertiberia-aiming-to-reduce-emissions-to-zero-by-2035/
You might also like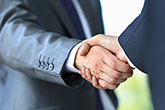 The company has announced that it has signed a definitive purchase agreement with Incitec Pivot Limited for IPL's ammonia production complex located in Waggaman, Louisiana.