---
Global fertilizer company EuroChem Group AG has announced that it has signed a further agreement with the John Nurminen Foundation – a private Finnish foundation that looks to protect the Baltic Sea.
Under the terms of the agreement, both parties will continue to work together on measures to further improve the environment in the Luga River basin. The agreement will cover EuroChem's installation of a closed water cycle system in its new ammonia factory at the site of its Phosphorit plant in Kingisepp, close to the Estonian border and the on the banks of the Luga River, which flows into the Baltic Sea in the Gulf of Finland.
Igor Nechayev, General Director of MCC EuroChem, said: "We have already achieved much with the John Nurminen Foundation and look forward to our continued collaboration.
"The proposed closed water cycle system is a state-of-the-art development and a key part of our effort to minimise our impact on the Baltic Sea."
According to the statement, both parties first started working together in 2012 in order to decrease phosphorous discharges from the Phosphorit fertilizer factory into the Luga River. A system of dams and other measures to prevent water runoff from the project resulted in a noticeable decrease between 2011 and 2017 in the phosphorus load carried by the Luga into the Baltic. The system was later tested by independent experts who came to the conclusion that its treatment capacity was sufficient for all conditions and that the used water purification technology used was functioning well.
In order to mark the signing of this latest agreement, representatives from the John Nurminen Foundation recently visited Phosphorit to see the purification system in operation, six years after operations first started.
Marjukka Porvari, Director of the Baltic Sea projects of the John Nurminen Foundation, said: "The effect of the measures at the Phosphorit plant on the water quality of the Gulf of Finland, especially in the eastern parts, has been remarkable.
"Research organisations, including the Finnish Environment Institute SYKE, confirm that symptoms of eutrophication, such as excessive growth of harmful algae, have been reduced while, at the same time, water clarity in the Luga River and the Gulf of Finland has increased significantly. In terms of its positive impact on the environment, it can be said that this is the largest environmental project ever implemented in the Gulf of Finland in the Baltic Sea."
Read the article online at: https://www.worldfertilizer.com/environment/05062018/eurochem-signs-agreement-with-environmental-protection-foundation/
You might also like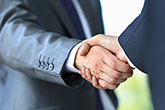 The company has announced a new joint venture developing green ammonia and fertilizer projects with the focus on Central America and the Caribbean.