---
Durango Resources Inc. has announced that management has initiated discussions with the Canadian Food Inspection Agency (CFIA) in relation to using its limestone for fertilizer use.
Fertilizer and supplement products are regulated under the authority of the Fertilizers Act, which is administered by the CFIA.
Limestone is extremely beneficial for the agricultural industry, as the chemical properties of agricultural lime can significantly boost the profit yield of farms and increase efficiencies of the fertilizers of up to 50% increasing crop yields and profitability.
The limestone is activated when it meets with water and dissolves into the soil, which lowers the acidity and raises the pH, which is essential for crop yields. The lime also adds desirable nutrients to the soils such as calcium, magnesium and phosphorus, which can improve soil structure, increase rates of air and water infiltration, improve plant cell wall formation, and help to regulate the nutrient uptake through the roots of the plant. Hydroponic systems are more prone to incur a calcium deficiency and require the use of limestone, therefore Durango is investigating the synergy of agricultural limestone for such soil conditioning mediums.
Read the article online at: https://www.worldfertilizer.com/environment/05042017/durango-resources-and-cfia-in-limestone-discussions/
You might also like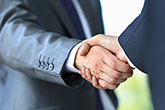 The company has initiated discussions with Unigel Participações S.A. to analyse joint business involving opportunity development in the areas of fertilizers, green hydrogen and low-carbon projects, in line with the revision of the strategic elements for Petrobras' Strategic Plan 2024 – 2028.