Special reports - 16 November 2018
The dividend amounts to US$0.15/share on common stock.
EuroChem Group AG, a leading global fertilizer producer, and Belgium-based biotechnology company Aphea.Bio announce the signing of a research and development agreement.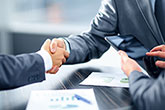 Nutrien Ltd has announced that Pedro Farah has been appointed Nutrien's Executive Vice President and CFO, effective February 1, 2019.