Potash - 23 June 2017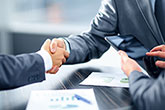 The Potash Corporation of Saskatchewan Inc. and Agrium Inc. merger is set to be complete in 3Q17.
First Energy Bank has exited from its investment in Bulgaria. FEB had invested in December 2013 jointly with Borealis in FEBORAN, which is an investment vehicle set up in Bulgaria to acquire 20.3% equity stake in Neochim.