Phosphates 2021: Virtual Conference & Exhibition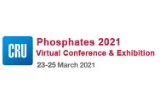 23 March 2021 - 25 March 2021
---
The only "virtual" thing about the conference is the venue: the conference still offers real insight, real networking, real business opportunities. And at a cost of €440 to attend and no travel and accommodation costs - real value.
The virtual event will take place on a highly immersive platform including:
A virtual exhibition and integrated networking which includes live video, audio and text chat
Interactive discussion groups
A meeting scheduler
Networking from the beginning to the end of the series, with a searchable delegate list and see who is online when you are
Q&A for the live conference sessions which will also be available on demand for some time after the live event.
Key benefits of attending:
It enables our community to connect irrespective of any travel restrictions
By offering a virtual platform we will connect with a wider, more global audience and provide invaluable global insight
3 days featuring C-suite executives and market leading analysis
Create your personal agenda linked to your personal calendar
Interaction is built into the platform, with live Q&A, ask the experts and live audio, video and text chat functionality
The virtual platform provides you with flexibility to access high-quality content; live and on-demand
Access from anywhere: The platform requires no download, and is mobile friendly, allowing participants to join anytime, anywhere.
This year's extensive dual-streamed agenda will give you the latest market updates and technical innovations. The expanded technical content stream, with a dedicated agenda of technical papers and showcase presentations, is specifically tailored for operators working across mining and plant-based facilities.
The technical agenda offers an ideal opportunity for you to share experience, develop solutions to operational challenges, and learn how new technology, process, materials, and equipment developments can improve efficiency, environmental compliance and productivity.
In addition to the CRU view on the global markets and industry trends, the commercial agenda will have a particular focus on how the industry is responding to changing dynamics of phosphate demand, in terms of new phosphate products and the evolving relationship with consumers.
CRU Phosphates 2021 is the essential annual meeting for commercial and operational professionals in the fertilizer, feed and industrial phosphates industries.